StandInBaby® is a company that provides simulated training solutions for the Newborn Photography, Health and Educational Industries worldwide. Our organisation is dedicated to providing premium-quality initiative products and curriculum to solve current market gaps, offer a higher level of safety and overall reduce training downtime. We intend to make enough profit to finance continued growth and development in new products. We also maintain a friendly, fair, and creative work environment, which respects diversity, new ideas, and hard work.
Discovering the wonders of Photoshop at the early age of 13, editing and creating digital art pieces instantly became her artistic passion, along with painting and drawing.  She studied film photography in high school and continued these passions, though the Commercial arts and training college at night while working full time as a Graphic designer. As opportunities continued to open, Sandra ended up pursuing a 12 year long career in Graphic design and marketing.  But her passion for photography never wavered, taking photos every chance she got.  Eventually, in 2008 Sandra took the leap of finally pursuing a career in photography by opening her own photography business,  adequately named "Moffatt Photography"  Then in 2011 Sandra decided to focus her efforts by opening a fully equipped studio and becoming a newborn photography specialist, ultimately leading to her photographing over 200 beautiful bundles of joy every year and winning several photography awards for her work with babies.
Sandra is a known expert in handling and working with newborns and her unique creative style lead to her gaining followers from around the world. But it wasn't until she had to employ the services of an inexperienced newborn photography assistant in 2014 that she realised how unsafe the newborn photography learning process really is. Horrified at the thought of her new assistants practicing on precious babies, she instantly set to work on changing industry practices.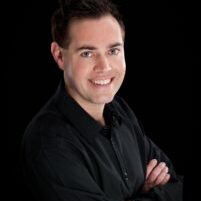 Whilst enjoying photographing weddings from time to time, for the past 5 years Brendon Moffatt has owned and managed the multi award winning photography studio, Moffatt Photography. Previous to this Brendon had a 13 year background in training and assessing. From the moment he entered the newborn photography industry he was horrified by the lack of safety options available when learning the art form. Expanding the business and training new staff safely was an impossible task. After many years of searching for a training aid and watching industry leaders screaming out for a solution, it was time to rectify a growing problem before someone is hurt. It was at this point the concept of StandInBaby was born.