StandInBaby™ reduces your learning time by
By completely eliminating your "window of opportunity". You know that time between your baby actually going to sleep so you can practice, and it waking up.
Now imagine how confident you would be if you could repeat each step, until every action becomes so gentle and free flowing that you don't disturb the baby with every movement you make! How would your client gallery look, if you could pre map your entire session flow, client focused to their individual tastes and styles but streamlined for minimal movements and less disruptions to your baby. Imagine reducing your overall shoot time but maximising your client gallery? Would images of your clients toddler turn out better if you had a chance to see what they were capable of first? If you could quickly and easily make adjustments that would put them at ease before the pressure of placing their newborn sibling in their arms? StandInBaby™ is the game changer. Changing everything from how you learn and create, to how you instruct your clients and streamline your session flow.
Fast track your learning now by working with the industry "Cheat Sheet" to instant results.
• Unique Ball Joint technology
• Articulated with lifelike head
• Accurate weight distribution 
• Approx 50th percentile newborn baby* 
• Suitable for any simulation training requiring newborn handling or joint manipulation
  *reference http://www.who.int/childgrowth/en
Realistic Joint Articulation
The world's first, fully articulated, lifelike and camera ready posing and training aid, specifically designed for newborn photographers, by newborn photographers.  It introduces a new level of safety and education practices never seen before in the Newborn Photography Industry.  StandInBaby™ significantly accelerates learning, opens creativity and adds strength to your natural abilities, all while keeping infant safety at the forefront.
Interest free payment plans
With PUT IT ON LAY-BUY powered by PayPal, you can now spread the cost of your StandInBaby™ over up to 6 months
Optimise your studio workflow with our step-by-step illustrated Guidebooks & Videos 
Posing Discovery Workshops
Discover Simplified Techniques

Learn Advanced Transitioning
Explore Repurposed Posing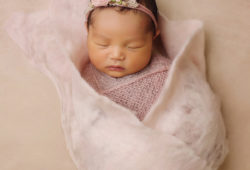 StandInBaby™ Official Ambassador & Teacher from the USA
Ana Brandt is a California based award winning photographer, author, teacher and mother of 3 who has been specializing in pregnancy and newborn imagery for over 18 years. Her classic images for an established and growing A List clientele have appeared in numerous publications, books, websites, and physician offices. 
Ana has taught in Argentina, Australia, Brazil, China, Italy, France, Mexico, Japan, Peru, the U.K. and Spain. She will be traveling back to Brazil, China Japan, Paris, the UK, Taiwan and is working on India and South Africa. Ana regularly travels with her family so she can show her kids the world.
As an adopted child, Ana has never seen what she looked like as a newborn. She believes you need to create a visual history of your life because "to know where you're going, it's important to know where you came from." Ana's latest work can be seen in Alicia Silverstone's new book, The Kind Mama. Lastly you can also find her on her YouTube channel -www.anabrandtvideos.
Ana Brandt has been named:
Parents Choice Awards – Bump Society Fall 2016
One of the top 19 Photographers in Santa Ana – Fall 2016
One of the top 5 Photographers in Orange County Fall 2016
Readers Choice for Parenting Magazine in Orange County Fall 2016
One of the 50 best photographers of family in the United States.
One of the 10 best Maternity photographers in the world.
One of the 10 best photographers in California.
One of the 50 most inspiring photographers.
Voted one of California's Top Newborn Photographers of 2016 by Photography Magazine.
"Even if you already are a posing guru, the SIB will allow you to have mom, dad or even a younger sibling practice a pose with confidence. Instead of showing them an image that we want to create, we can now use the SIB to demonstrate how we are going to place the baby in their hands. That, in and of itself is gold."
-Alicia D'Amico
, Pure Emotions Photography
I've been saying for years that something like this should be developed. This is going to be so beneficial for both new and seasoned photographers to help with not just perfecting poses, but learning how to safely do them. Genius!
-Theresa Lucin
, Theresa Lucin Photography
My StandInBaby moves incredible smooth and realisticly. She already helped me practice wrapping and made sure the newborn bonnet I was making was not too short. Patiently she waits till I have figured out my lights and lets me tuck and pull a little without worrying I will upset her.
-Sonja Heuvelink
, erSon (The Netherlands)
I can't wait to purchase the StandinBaby! This would be such a great tool to help me teach my new assistant!! What a great tool for new and old newborn photographers!!!
-Elizabeth Tujague Sylvester
, Liz Yvonne Photography
StandInBaby™ is a revolutionary educational product that will change the newborn photography industry, by enabling new and seasoned photographers to expand their knowledge of handling the delicate anatomy of a newborn body.
-Faythe Hall
, Beauty & Lifestyle Mommy Magazine
A safe and amazing way to learn and refine newborn posing skills!!
-Tamarind Spender
, Azure Photography
I just received my StandInBaby, I can't believe how real it looks and feels. When I picked it up I automatically held it as a real baby. I can't wait to try it out.
- Jill Macdonald Lindh
, Jill Lindh Photography
Countries Already Sold To
Sold Prior to Launch in 2016
Tell us about your business?
After graduating college in 2013, I went to work for a mall studio to help pay for the bills to help pay for grad school. It was there that my love for photographing children grew. I started my company in 2014 and it was an instant success. I currently do not have a studio, but instead travel to my client's homes where I set up my own studio in their space. I usually use my studio lighting, but occasionally my client's have beautiful natural light that I cannot pass up!
What are your business goals? 
My goals right now are to purchase a home with my husband where I can have the studio of my dreams. I have a lot of clients in New York City and with trying to start a family, that drive (1-2 hours) is just becoming too much. I would also like to start teaching workshops in the near future!
What challenges were you experiencing prior to purchasing StandInBaby?
There were just some poses, wrapped and unwrapped that I was just not nailing. Within a few hours on using my SIB, I was able to figure out the correct positioning and angle baby needed to be to get it perfect.
What made StandInBaby appeal to you?
The most appealing thing was how life life-like it was. I would finally be able to accurately practice poses that I was having troubles with. It also gave me the opportunity to be able to teach others, which is something I have been wanting to do for a long time.
How have you benefited from using StandInBaby?
In the few weeks of using my SIB, I have perfected wrapping techniques I had been trying to nail for over a year, as well as coming up with new poses for my sessions. I can't wait to bring it on location to help parents feel more comfortable with family shots as well!
Anything else you'd like to add?
StandInBaby is beyond anything I was expecting. I am so thankful to the Moffatts for everything they have done to help this community!
StandInBaby™ Official Ambassador & Teacher from Brazil
With an internationally recognised name and huge following in the Newborn Photography community, Paloma is not only a well known & respected expert in her field but also a well sort after Mentor & Educator;  Certifying more than 2.000 students in 9 countries.  Paloma is regularly invited to speak at conferences around the world and has written 2 books that have been translated into 4 different languages.  
In her work as a photographer, she uses soft light with low contrast and backlight, combined with harmonic accessories and colors. Her photos are soft, light and delicate, always highlighting the baby.
Paloma's approach to newborn safety and education is second to none and we are proud to have her on our elite team of official StandInBaby™ Ambassadors.