Babies are quite different to adults, this includes the way they breathe. Babies breathe through their nose unless they are crying, and are more prone to positional asphyxiation due to their under-developed airways.
When working with babies, it is important to understand these differences so we can minimize the risk of injury.
Research shows babies positioned in a slouched position with their chin resting on their chest for extended periods of time may lead to hypoxia (oxygen deprivation/reduced oxygen saturation). In newborns, the airway kinks (like a straw) due to the heavy weight of their head, resting their chin on their chest. Airway occlusion in a newborn can happen in all directions, not just backwards or forwards.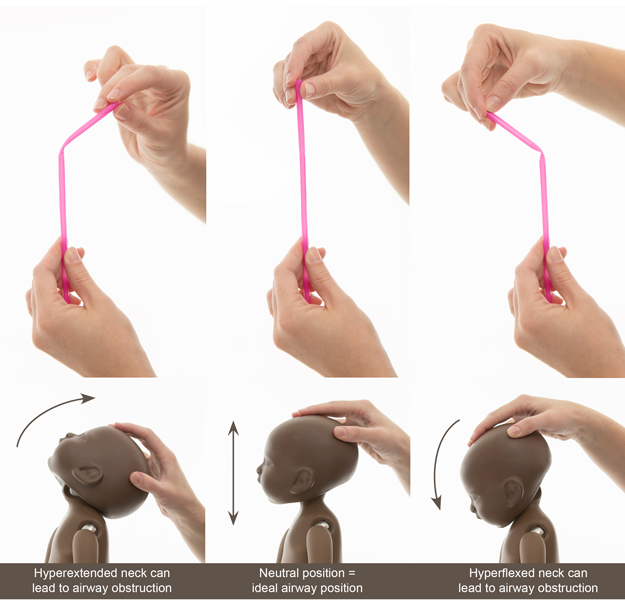 Poses where a baby's chin is resting on their chest (potato sack, Huck Fin as well as some back lying and wrapped positions), their head is hyperextended upwards (Hands under chin, froggy) or even all the way to one side (bum up and some side and back poses) should be monitored closely.
This issue is not unique to newborn photography; positional asphyxiation can happen in a car seat, swing, bouncy seat or a baby carrier.
This doesn't mean you should stop creating lasting memories with beautiful poses. Being up to date with newborn safety not only puts mum and dad at ease by reducing the risk of injury to their bundle of joy but also enhances your confidence to allow your creativity to flow.
Signs of respiratory distress in babies
Breathing increase
Colour changes
Grunting
Wheezing
Muscles going in and out more than normal
Nostrils flaring
Head bobbing up and down as they breath
Pursed lips as they breath out
Newborn 0-4months are at greatest risk
Newborns with low birth weight
Premature babies
Babies with Hypotonia (low muscle tone)
Preventative measures ...
Monitor your baby closely when posing
Listen for unusual noises like grunting or laboured breathing
Check baby frequently. Baby's head should not be kinked sideways or falling forward onto baby's chest
Take breaks from posing, don't maintain restrictive poses for extended times. Consider feeding times to reduce risk of hypoglycaemia
Always remain within arms reach of baby
Make sure baby has access to safe sleeping area when not actively shooting
Article written by Jacintha L Murphy RN
Published and produced by StandInBaby®
© StandInBaby 2018
A good quality beanbag will help ensure your baby's safety by providing the right support in the right places?
Our desktop beanbags are made from a stretchy, durable, light weight material that perfectly contours to your baby's shape, ensuring a more comfortable and supportive posing surface.
By sharing this post you could help others in our community.  Remember: We don't know, what we don't know!
Share now by choosing one of the social media buttons below
Get a full return on your StandInBaby Investment
Purchase up front or via our easy payment plans
Receive instant access to our "Members Lounge".  Showcasing an ever growing catalog of FREE easy to follow tutorials and videos.
Recoup your investment by renting out your StandInbaby to local newborn photographers 
IMAGERY SUPPLIED BY JESSICA ARELLIN PHOTOGRAPHY